The heart of Mozzarita comes from Vito Volpe, a true Italian who was born and raised in a poor family of farmers from the ancient, city of Conversano, Italy. Being the youngest of 4 children, Vito was naturally suited to help his mother prepare the family meals. It was under the loving, careful eye of his Mother, that Vito's passion for making cheese was born. She carved into his memories the tastes, smells, and traditional methods of making cheese using fresh, natural ingredients from their farm.
Story
As Vito became a young man, he dreamed of making his own cheeses and in 1972, he took the chance to move to New York City where he landed a job as a dishwasher in an Italian restaurant. Through much trial and tribulation, and a good bit of determination, Vito began climbing the ladder to become one of the best chefs at the restaurant. This gave him the opportunity to learn about choosing products to import from Italy including olive oils, tarallini snacks and more. Vito eventually became the supplier of these imported products to most of the Italian markets in Brooklyn, NY which gave him the success he needed to move forward.
Vito's never-ending dream of sharing his passion for Italian handmade cheese, lead him to South Florida in 2005, where he established Mozzarita, in Pompano Beach. His small, family owned and operated cheese factory, began to grow and grow and within 5 short years, Mozzarita became immensely popular with specialty markets in the surrounding areas. As time went on, distribution expanded beyond the local markets and into some of the most exclusive kitchens and now Mozzarita products can also be found on the shelves of most supermarkets in South Florida.
Fresh cheese has always been the heart of Italian cuisine and I am very humbled to share these flavors in South Florida. 
The King of Mozzarella
Our owner and founder Vito Volpe has been making cheese since he was a child, helping his mom in the kitchen on their farm in Puglia, Italy.
He brought the secret of authentic Italian cheese-making with him to Florida in 2005 and we now sell Mozzarita, our fresh mozzarella, as well as a range of other fresh Italian cheeses from our facility in Pompano Beach. You can also buy our cheese online and from various fine food stores such as Whole Foods.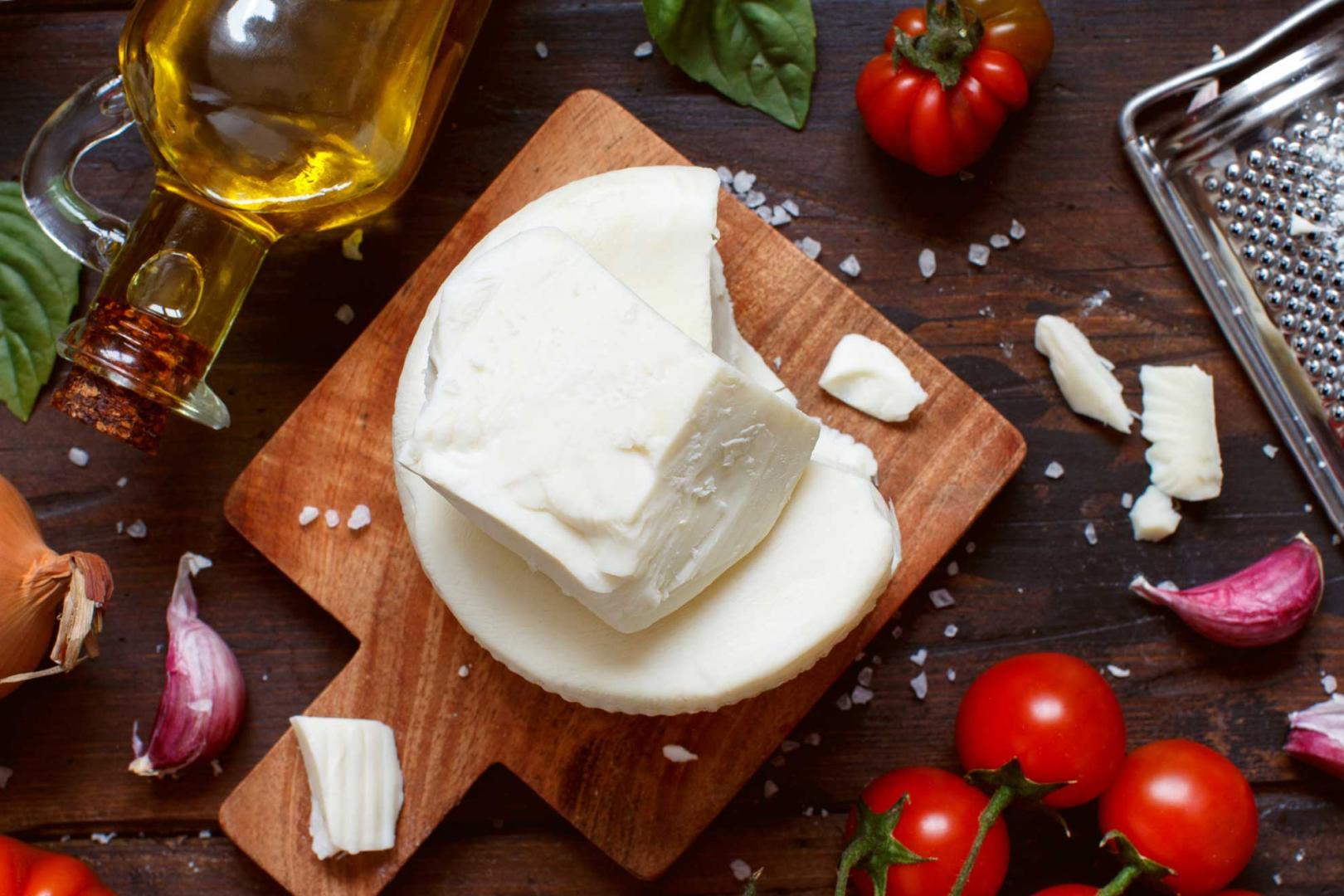 Try our fresh Italian mozzarella today!
In the News
Video airing in South Florida television
Broward Palm Beach New Times
Pompano Beach's Vito Volpe Makes the Best Cheese in South Florida
Some of us seek divinity and some of us stumble across it by accident. We practically crashed into the pearly gates one day when scoping out the North Bay Village Farmer's Market. Avid cheeselovers, there was no way we were going to leave the market without our discovery -- Mozzarita burrata. Mozzarita has a full line of cheese products handmade in Pompano Beach from local ingredients; other Mozzarita products like prosciutto and olive oil are imported from Italy. The company has come a long way from when it received a nod from the Miami New Times for Best Mozzarella in 2008. 

July 13, 2011
Vito Volpe stretches the mozzarella cheese he makes at his kitchen in Pompano Beach. He also makes burrata, ricotta, scamorza and many others. (Libby Volgyes/The Palm Beach Post)
When Vito Volpe was a very young lad growing up in the small southern Italian village of Conversano, he would tell his father he didn't feel well enough to farm so he could stay in the warm kitchen and help his mother make cheese.
"I loved my mother. I didn't like to go out picking olives," he remembers.
As the youngest of four, this often worked. Still, he'd rise at 5 a.m. to help his mother for a few hours before going to school.
Fifty one years later, Vito still rises at early – 4:30 a.m. in the summer and 3:30 a.m. in the winter. But instead of just making cheese for his family, he provides to specialty markets all over South Florida his own brand of cheese: Mozzarita.
"I like to eat the cheese, that's how I got started," recalls the cheese maker who lives in Boca Raton.
His family farmed (olives, cherries, grapes and olive oil) and made everything themselves, including bread and pasta.
"I come from a town where there's a lot of cheese makers – my mother, my father, they used to make cheese from our sheep," he said.
In 1972, at age 16, he moved from Italy to Hicksville, N.Y., with his father because jobs were scarce in Italy. He worked in imports, in restaurants, at dairies, always making cheese.
He moved to Florida in 1995 and concluded that nobody made "good mozzarella" so he decided he would . He makes his cheese by hand in Pompano Beach, working with his wife, Lucrezia. His hands are submerged in hot water for most of the day. They're callused and used to the uncomfortable temperature. His hands know instinctively how much mozzarella to cut off, perfectly proportioned, time and time again.
"I'd rather do it by hand. The mozzarella comes with the love," Volpe said.
Three times a week he delivers to Whole Foods as well as Howard's Market in Boca Raton, Joseph's Classic Market, Norman Brothers in Miami, Boca West Country Club. During season, he makes between 7,000 and 8,000 pounds of cheese a week.
Not just his exquisite mozzarella. He makes creamy burrata. ricotta. smoked, all-natural mozzarella, scamorza (cow's milk cheese which is dried for two to three weeks), mild basket cheese and knotted nodini, among other types.
"I love the satisfaction when people try my cheese and they like it," says Volpe, who dreams of expanding his business into the larger chain supermarkets.
If she were still alive, Volpe knows his mother would be so proud of her son, still making cheese just like she taught him.
"My mother was very proud. She always loved me more than the other kids," Volpe laughs.
Sun Sentinel
October 28, 2010
Wow factor: Buying handmade cheese that's still warm from the cheesemaking process may seem a bit unusual to those who buy supermarket-wrapped slices of processed cheese, but to turophiles — those who love cheese — it's heaven on earth. You can experience it by heading to the rear door of this 2,700-square-foot cheese factory, where master cheesemaker Vito Volpe practices his art. Advertisement
Quote: "The hardest part of making cheese is processing the milk to get perfect curds," explains Volpe. "The curd has to reach a certain temperature before being cut with a special knife and drained of water on slanted tables. From that point on it takes about 20 minutes to work the curds into beautiful fresh mozzarella. Boiling water is poured over the curds to start the melting process.
Then Volpe uses a wooden paddle and his hands to mix and stretch the curds until it looks like taffy and the enormous mass becomes the right consistency and color.
"If you don't get it exactly right, the mozzarella breaks," he adds.
Background: Volpe, a self-taught cheesemaker and former restaurateur with a passion for quality, has been making cheese for more than 35 years. He learned the craft as a young man in his hometown of Conversano, Italy by watching the elder cheese crafters in his village. He has the ability to eyeball ingredients and come up with precise weights and measures. He lives his passion and you'll find him at the helm early each morning making fresh cheese under the Mozzarita label to sell to restaurants and a wide variety of stores, including Whole Foods.
Buy this: This fresh mozzarella would enhance any Caprese salad, but don't overlook the dreamy fresh ricotta, naturally smoked mozzarella, aged mozzarella called scamorza, or burrata. Producing burrata, fresh mozzarella filled with a blend of shredded mozzarella and cream, is a two-person job. One person flattens a portion of just-made mozzarella into a disc, while the second person quickly places the mozzarella/cream mixture in the center. Then the outer mozzarella is pinched together at the top and twisted and knotted to secure the filling. Finished products are placed in plastic containers filled with lightly salted water to help preserve the cheese.
Most of Volpe's cheese runs between $6 and $8. Besides cheese, retail customers can wander the small showroom with shelves full of all things Italian, from imported tomatoes, jarred artichokes and Cerignola olives to hard-to-find premium pasta cuts such as gigli, pennoni, paccheri, calamarati and strozzapreti.
— Judith Stocks

May 20, 2009
Mozzarita is Italian-style cow's-milk cheese made in Pompano Beach. Owner Vito Volpe was born in Bari Puglia, Italy. He lived for a while in New York before moving to South Florida.
Volpe learned cheesemaking from his Italian family. "Everyone in my small hometown made cheese," he says. "I made cheese for years in Italy before moving in 1972 to Long Island."
I learned about Volpe's cheese from a vendor who sells it at the seasonal Upper East Side Market in Legion Memorial Park on Biscayne Boulevard in Miami. It is also available at Whole Foods Market and Gardner's Market, and Volpe supplies it to various high-end restaurants in South Florida.
Volpe started in South Florida as an importer of quality Italian food products, including olive oil, which he still offers through his import-export company, Norba Import. He has combined his Norba Import and Mozzarita cheese offerings on a new Web site.
 
Volpe makes several kinds of cheese. "I buy milk from a Tampa dairy farm in five-gallon bags that are delivered in a cradle," he says. "Currently we are making about 2,500 gallons a week of mozzarella cheese. We hope to make a lot more. First, we make curds, and from the curds, we process the mozzarella in different shapes."

Sun Sentinel
April 16, 2009
Eat local: Cheesemakers craft fresh mozzarella at Mozzarita in Pompano Beach
Vito Volpe loves cheese, especially fresh mozzarella.
In his native Bari in southern Italy, he would eat a couple of pounds of it sitting in his car in traffic on his way home from work. He still likes to savor its creamy taste. And when he visits Italy, fresh mozzarella is the first thing he buys when he gets off the plane. But now he has an unlimited supply in this country, too.
That's because he makes it.
In a gleaming white and stainless steel kitchen, Volpe and a two-man crew turn out mountains of snow-white mozzarella and other cheeses at his company, Mozzarita in Pompano Beach.
Volpe didn't start his career as a cheesemaker. He spent 32 years in the restaurant business in his homeland, as well as in Long Island, N.Y., before moving to Florida nearly five years ago.
He began importing Italian food products, including olive oil, pasta and olives, before venturing into cheese making. His right-hand man is Mimmo Marchitelli, who also comes from Bari.
He starts with pasteurized whole cows' milk — 2,000 to 2,500 gallons a week from a Tampa-area dairy. The milk is combined with natural rennet, an enzyme from a calf's stomach, which causes it to coagulate and separate into curds and liquid or whey.
Marchitelli then fills a container with 40 pounds of curds and begins to stir with a large wooden paddle, periodically adding boiling water.
As he stirs, the individual curds cling together creating a satiny mound of mozzarella. When it's ready, Marchitelli places heaping handfuls of the cheese on the paddle and gently kneads and stretches the shiny mass.
In just seconds, he turns a strand of cheese into a tidy knot or plump braid. Then he drops the shapes into a cold brine bath and packs them in plastic containers.
"I'm proud of what I make," Volpe says, speaking of his company. "I don't want to make just any cheese. I want to make the best."
He's hardly the only fan.
"I like the smoothness, buttery-ness of his mozzarella," says John Schupbach, executive chef at Casablanca Cafe in Fort Lauderdale. "It almost melts in your mouth."
Schupbach uses the mozzarella on a tomato-basil pizza and in a panino that is also layered with prosciutto, grilled eggplant, roasted red peppers and a portobello mushroom. "Why fly in something when you can have it delivered fresh, several times a week?" Schupbach asks.
Volpe's cheeses contain no chemical additives. They are so fresh and pure, they are best when eaten within days.
Though he's a master at making mozzarella, he also provides cow's milk burrata, a cheese that is like a mozzarella shell with a creamy center. And burrata made with buffalo milk from Vermont. In addition, he makes ricotta and scamorza that's similar to mozzarella.
Five days a week he makes between 600 to 800 pounds of cheese daily, which he sells under the Mozzarita brand and to stores and restaurants.
"I like to sell to people who appreciate my food. I put my heart into it," he says.
Mozzarita
Address: 5390 NE 13th Way, Pompano Beach, 954-426-5115
Details: Mozzarita's retail shop is open from 8 a.m. to 5 p.m.
Monday-Friday; 10 a.m. to 3 p.m. Saturday. Also available at Whole Foods Markets and the Mediterranean Market, 1021 E. Las Olas Blvd., Fort Lauderdale, 954-463-1212.

Miami New Times
Best of 2008
Best Mozzarella: Vito Volpe's Mozzarita
That "fresh" mozzarella you buy at Publix or gourmet markets is unquestionably worlds better than the standard rubbery, flavor-free stuff. But it's nothing compared to the cheese made by Vito Volpe, from Puglia (Italy's muzz capital), an importer of Italian artisan products who began selling his own totally homemade — and made fresh daily — mozzarella when he moved to Florida a bit more than a year ago. His simple and perfect Mozzarita ($8 per ball), one of the tastiest things to ever happen to cow's milk, was the sensation of this year's new Upper Eastside Green Market. (Read article)

Miami Herald
September 8, 2008
Italian pals team up for fresh mozzarella
By LINDA BLADHOLM
Vito Volpe is bringing fresh mozzarella to South Florida one cheese ball at a time under the Mozzarita label. The creamy dairy delight is handmade by master cheesemaker Mimmo Marchittla, a friend of Volpe's from Bari, a city in Puglia, the southern ''boot'' region of Italy.
Manipulating milk with enzymes to create simple cheeses began in ancient times, but mozzarella was first made about 300 years ago in Puglia. After World War II, it was made with water buffalo milk from cattle imported from India.
Volpe, who grew up on a farm near Bari, spent 32 years in the restaurant business on Long Island. When he moved to Boca Raton four years ago, he decided to add fresh mozzarella to the line of Italian food products he sells through Norba, his import-export company in Pompano Beach. He built a small cheese plant adjacent to his office-showroom and brought on board Marchittla, who is ably assisted by Maribel Rodriguez...
Mozzarella is derived from the verb mozzare, meaning to cut, as the large mass of curd is cut into small pieces once the milk is curdled using a citric acid and salt solution. To make the cheese, curds are added to hot whey (the liquids from the drained curds) and stirred until the curds melt and start to form a smooth, shiny mass.
Marchittla stretches the mass like taffy, then grabs globs of hot curds and kneads them like bread, patting them into smooth, elastic balls. Rodriguez helps to break the large balls into little knots called nodino that are dropped into a cold brine bath and packed into plastic containers. (They're best consumed the same day but will keep about three days.)
Ricotta is made by adding cold milk to hot whey (the byproduct of mozzarella). Burrata is basically mozzarella stuffed in mozzarella. The outer skin is patted into a flat disc that is stretched and wrapped around unfinished curd and heavy cream, creating a soft core.
Burrata is great cut in quarters and dressed with good olive oil, sea salt and freshly ground pepper. Fresh mozzarella can be eaten as is or added to salads, pastas and other dishes. If you've only had supermarket mozzarella, these fresh, handmade cheeses will be a revelation.
Daily Candy Miami
October 17, 2008
Cheese Whiz
Vito Volpe's Mozzarita Cheese
Cheese it!
Two cannibals are eating a clown. One says to the other: "Does this taste funny to you?"
Ah, cheesiness. It's always been your weakness. That's why you'll love Mozzarita, fresh mozzarella made right here in South Florida by a bona fide Italian (named Vito, no less).
Vito Volpe churns out different shapes of rich mozzarella-like braids, knots, and bocconcini (tiny mouthfuls, great for parties). He makes a mean burrata (thick mozzarella outside, shredded mozzarella mixed with buttermilk inside) and fior di latte (the one-pound ball used to make Caprese salad).
You won't find any preservatives in Vito's all-natural cheeses, and because they're made locally you can sink your teeth into Florida's freshest 'rella with the smallest carbon footprint.
And that's no joke. (Read Article)
Available at Mozzarita, 5392 Northeast 13th Way, Pompano Beach (954-426-5115); Sunday, 9 a.m.-4 p.m., Las Olas Outdoor Gourmet Market, 1201 East Las Olas Boulevard, Fort Lauderdale; starting November 1, Saturdays, 9 a.m.-3 p.m., The Upper East Side Green Market, Legion Park, 6447 Northeast 7th Avenue.